---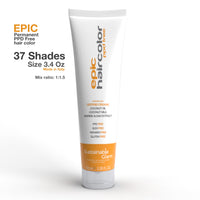 Sale
Get one of each shade of California Glam Epic PPD Free Hair Color Line at an amazing intro price so you can try them all at once! Plus, it includes our BlondX Violet & Blue Powder Lightener.
For new customers only. 
Can be purchased after buying Try Before Investing Color Intro Kit.
The kit includes the following products:

37 Shades Epic Hair Color [One of each shade.]
1 BlondX Violet Power Lightener Dust Free
1 BlondX Blue Power Lightener Dust Free
1 7 Volume Developer
1 10 Volume Developer
1 20 Volume Developer
1 30 Volume Developer
1 40 Volume Developer